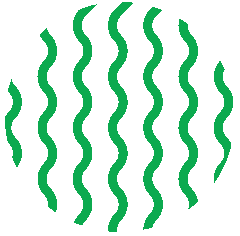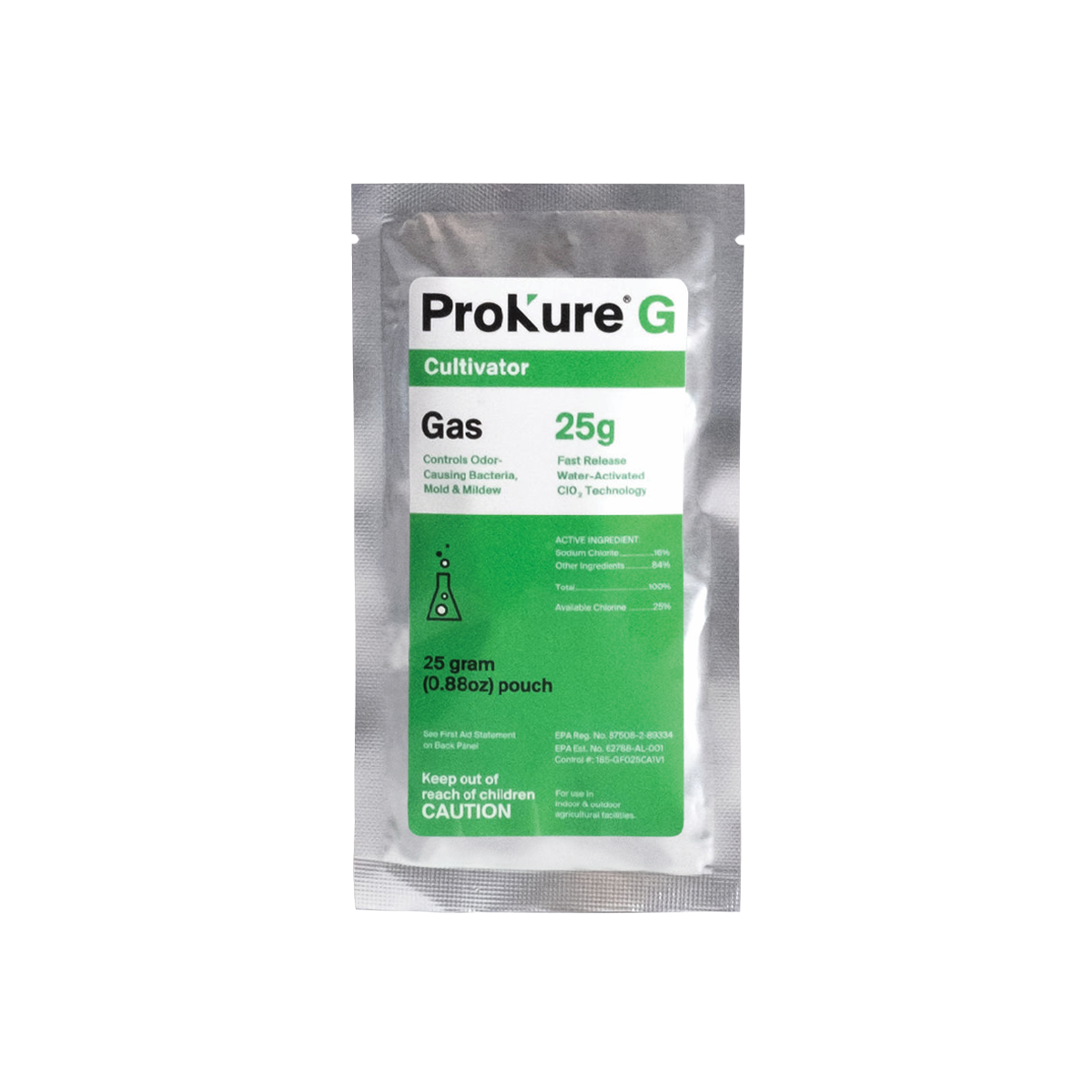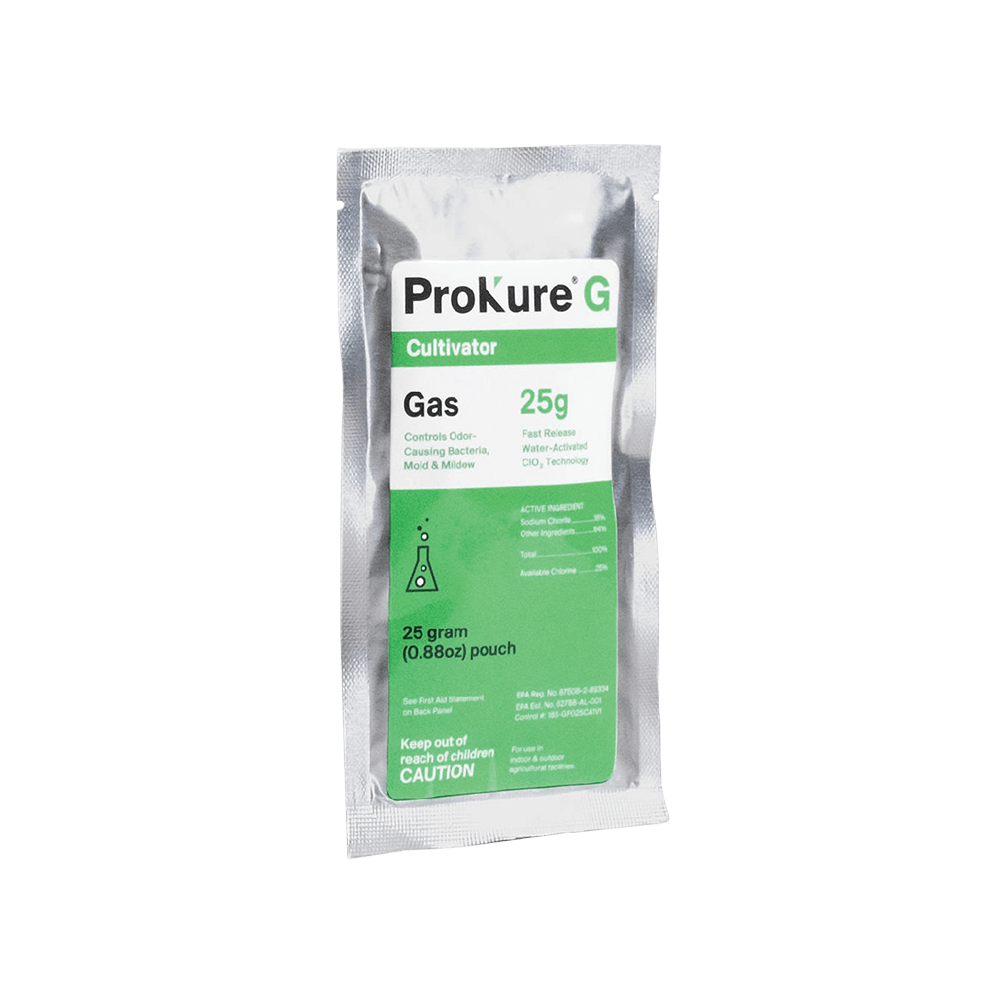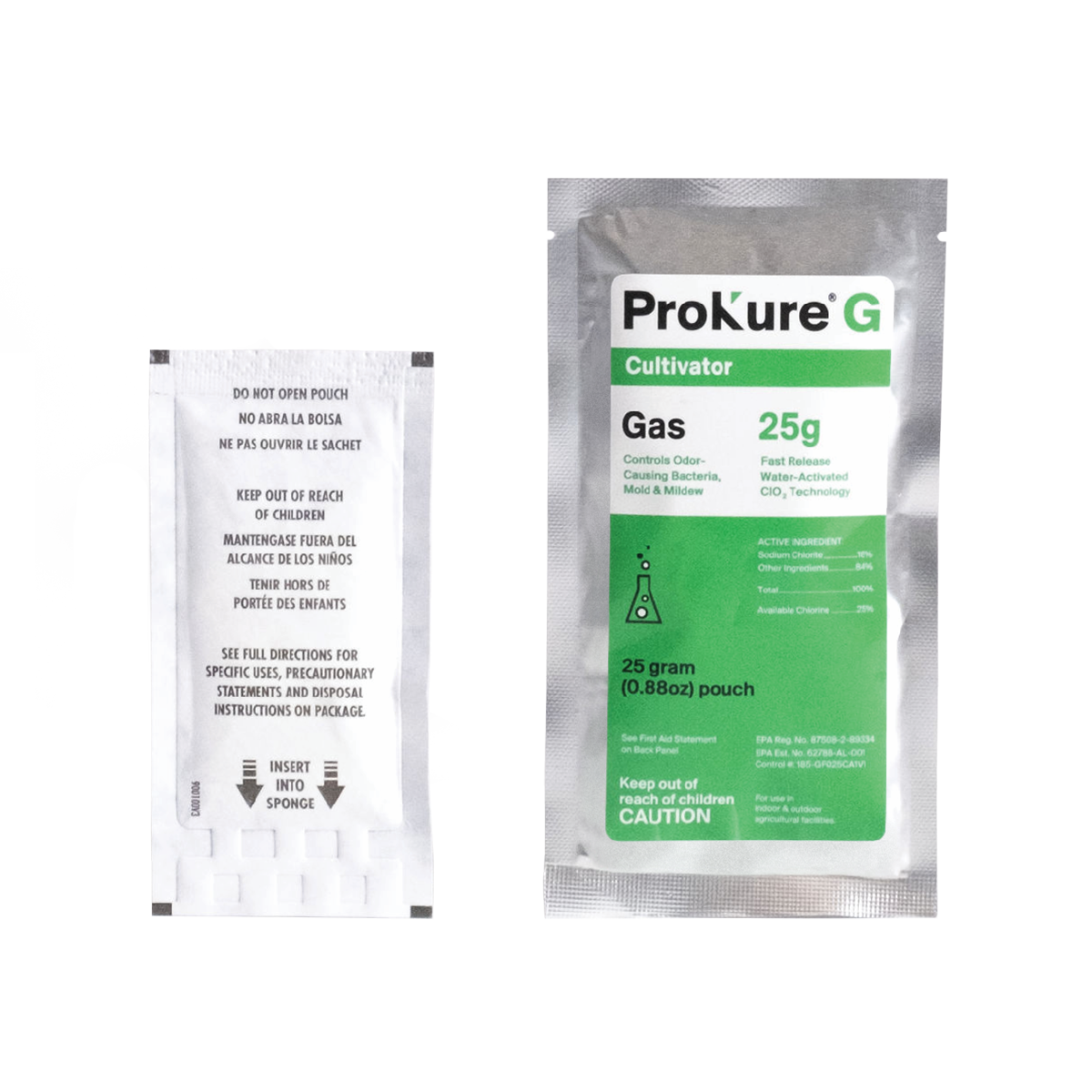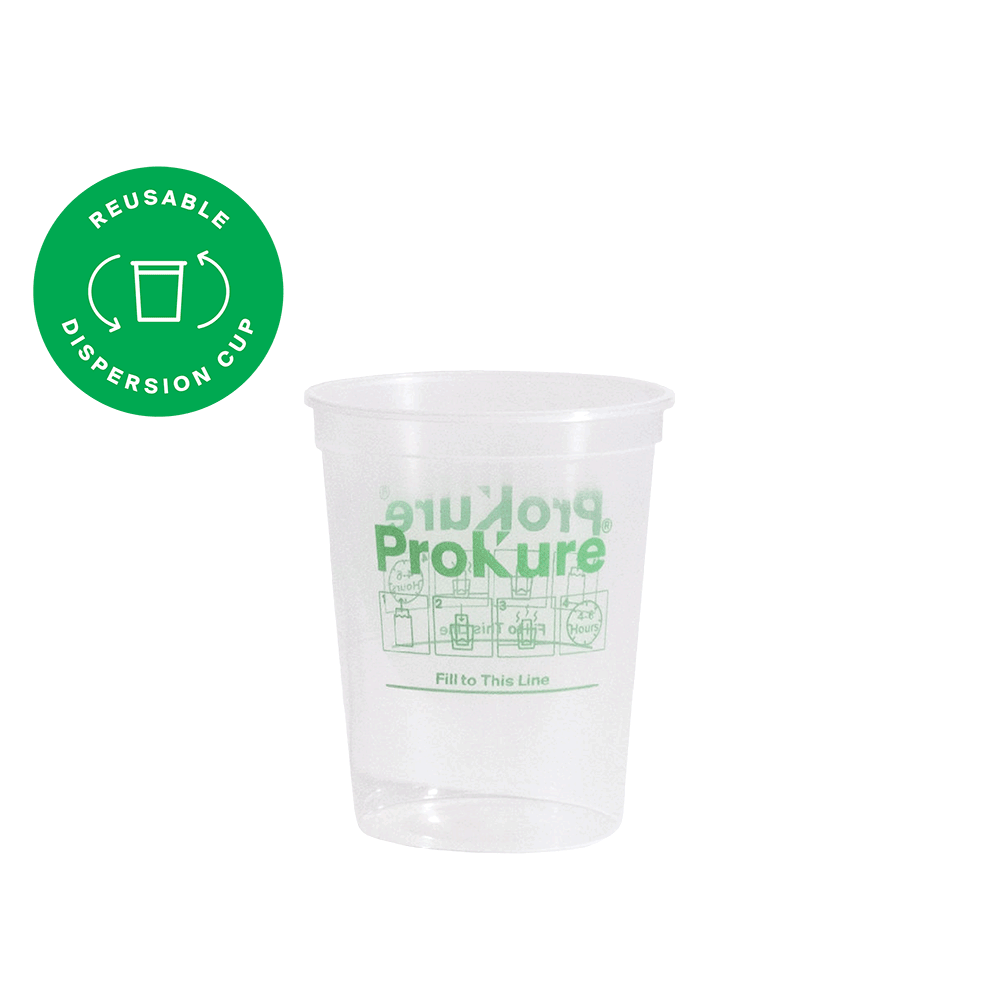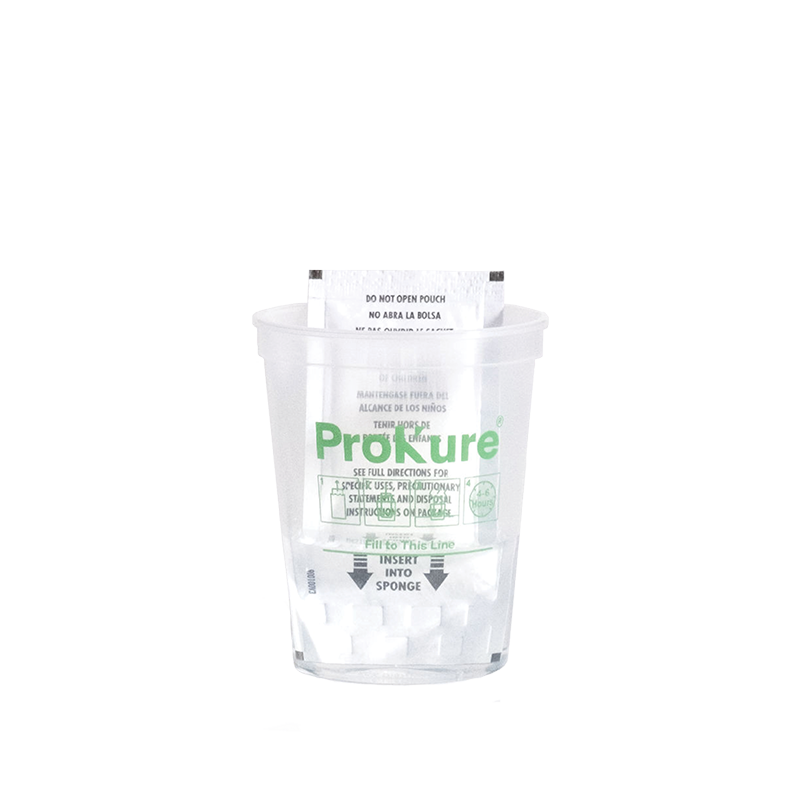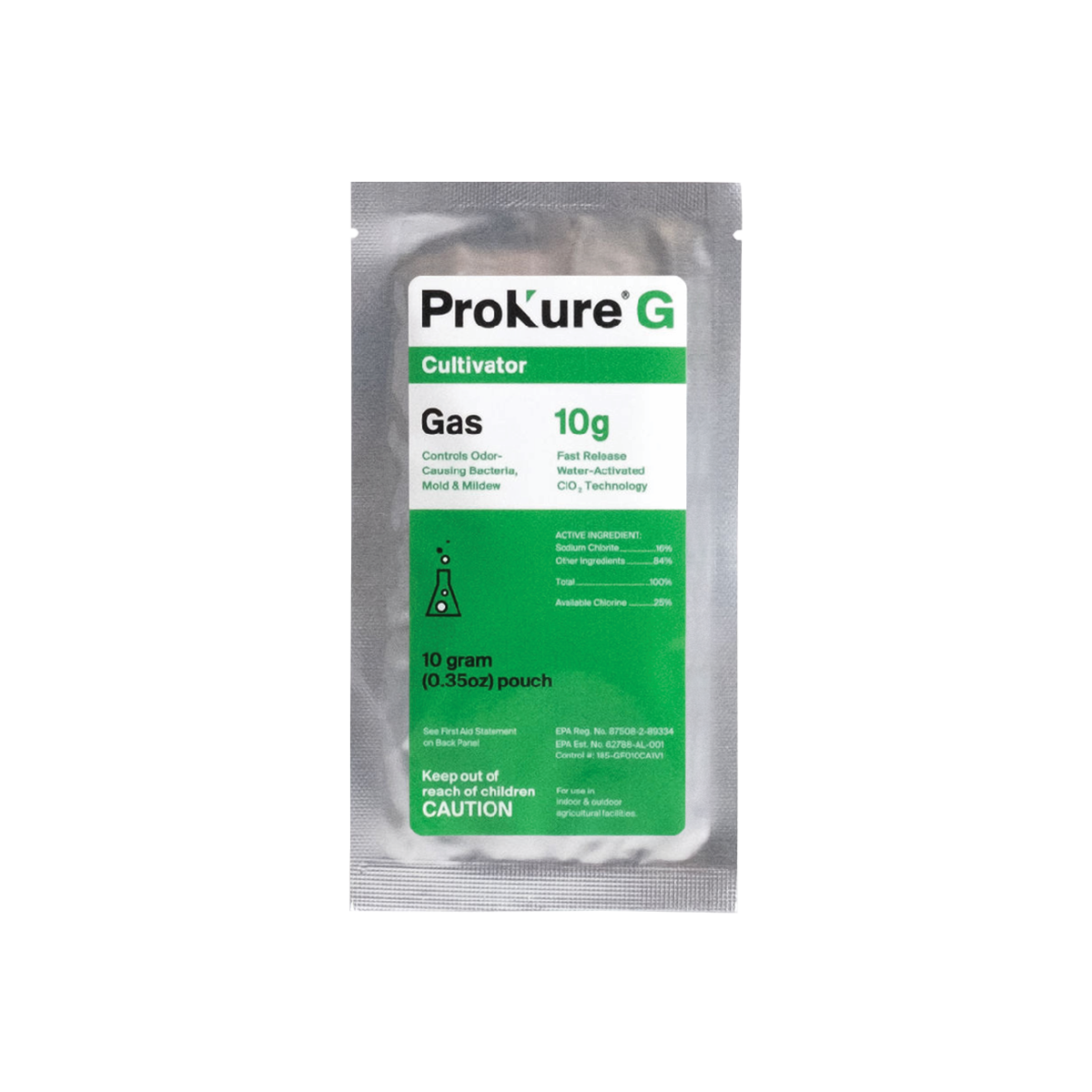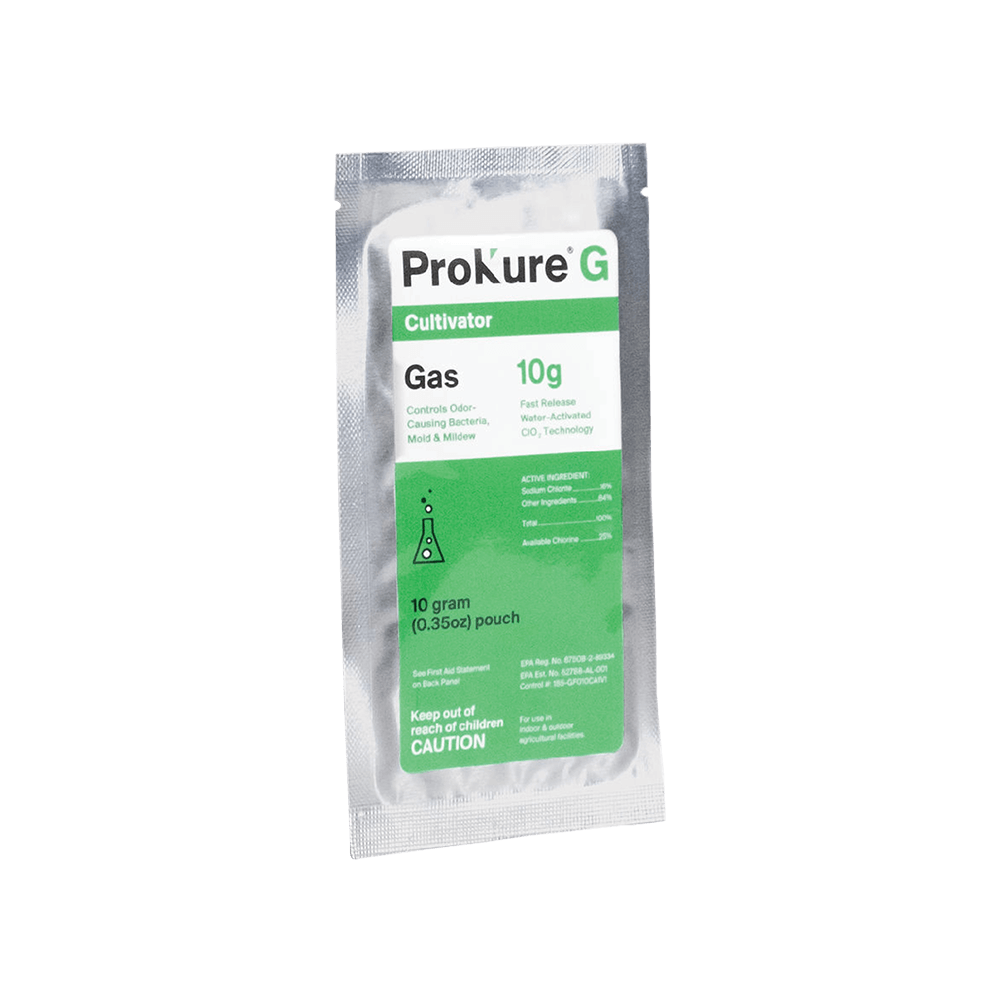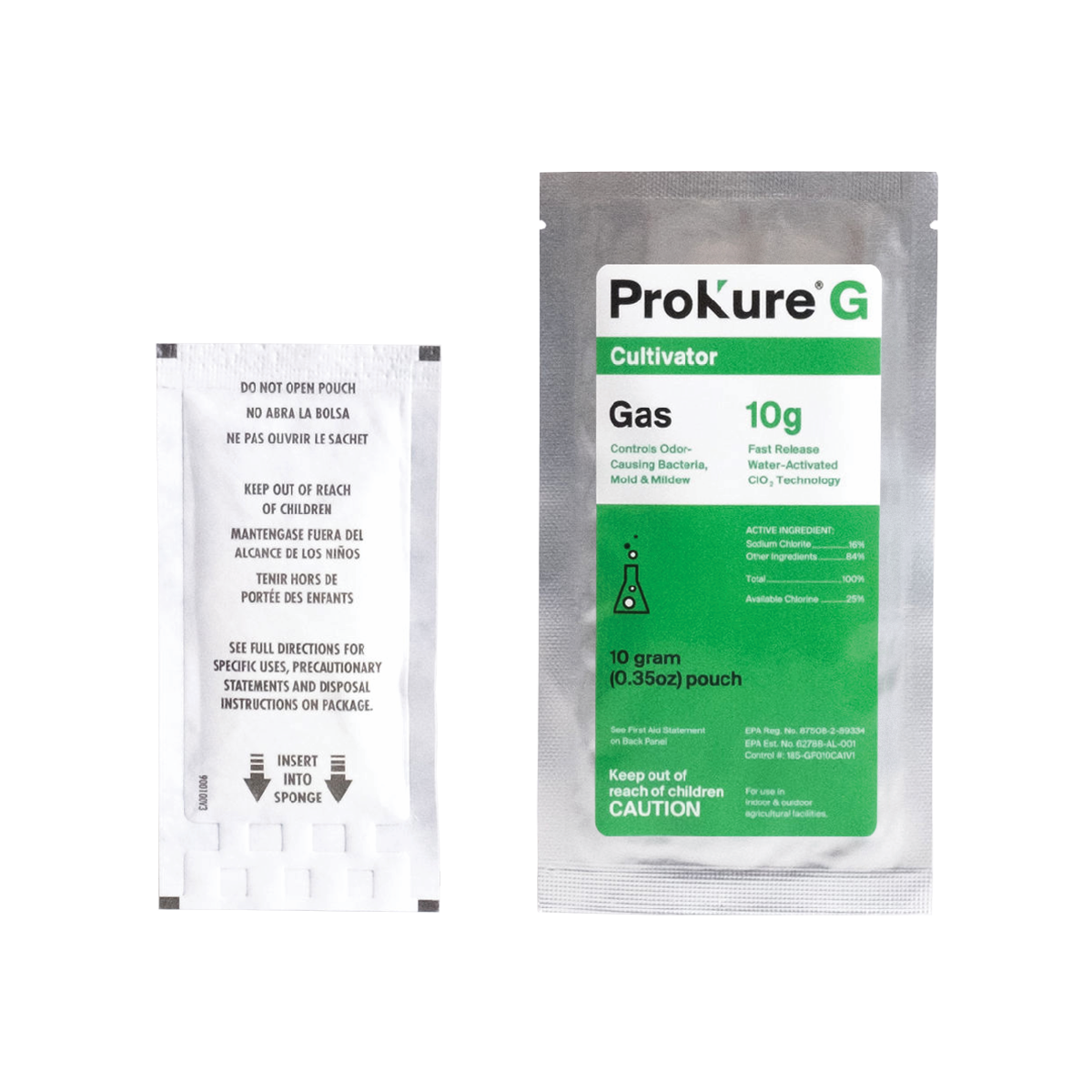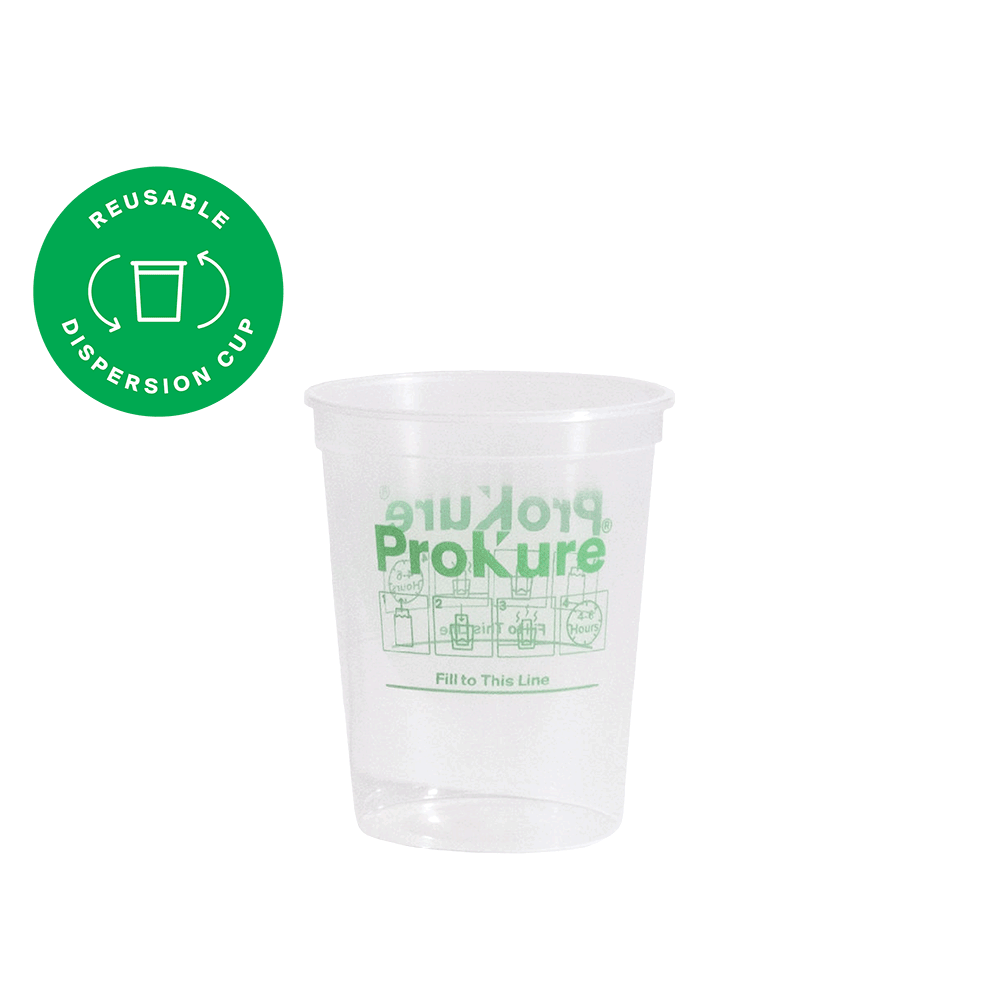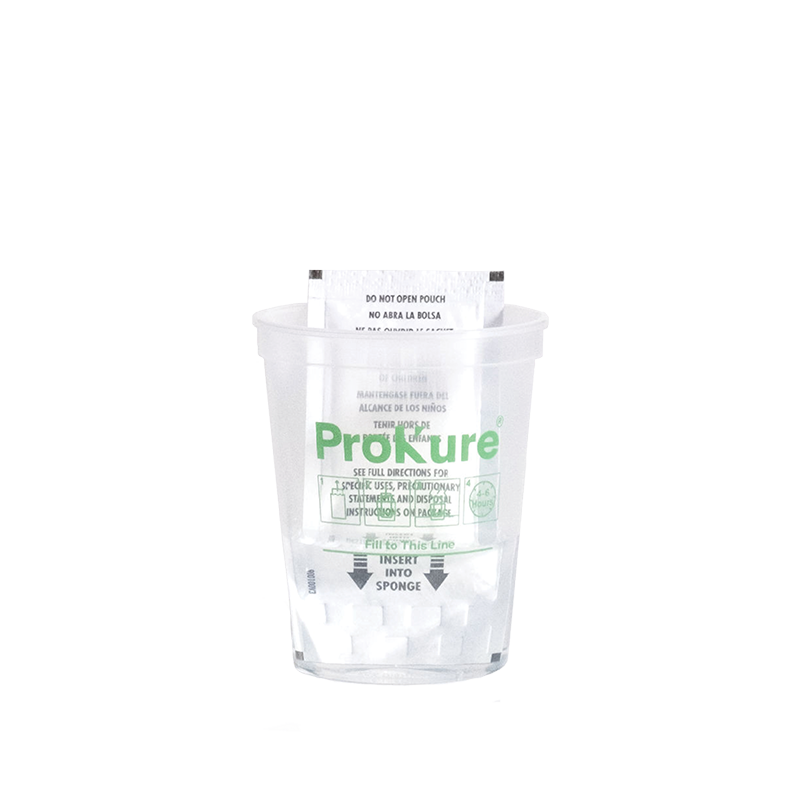 Fast-Release Gas
Mold & Mildew & Chemical Odors
Cleans the air
The solution to mold and mildew, odor-causing bacteria, and chemical odors.
Deep-penetrating ClO2 vapor
Not for use with/on plants/crops/feed. Always read product labels before use.
---
Coverage: 2,250 ft3 / Pair with: Reusable Gas Dispersion Cup
Coverage: 1,000 ft3 / Pair with: Reusable Gas Dispersion Cup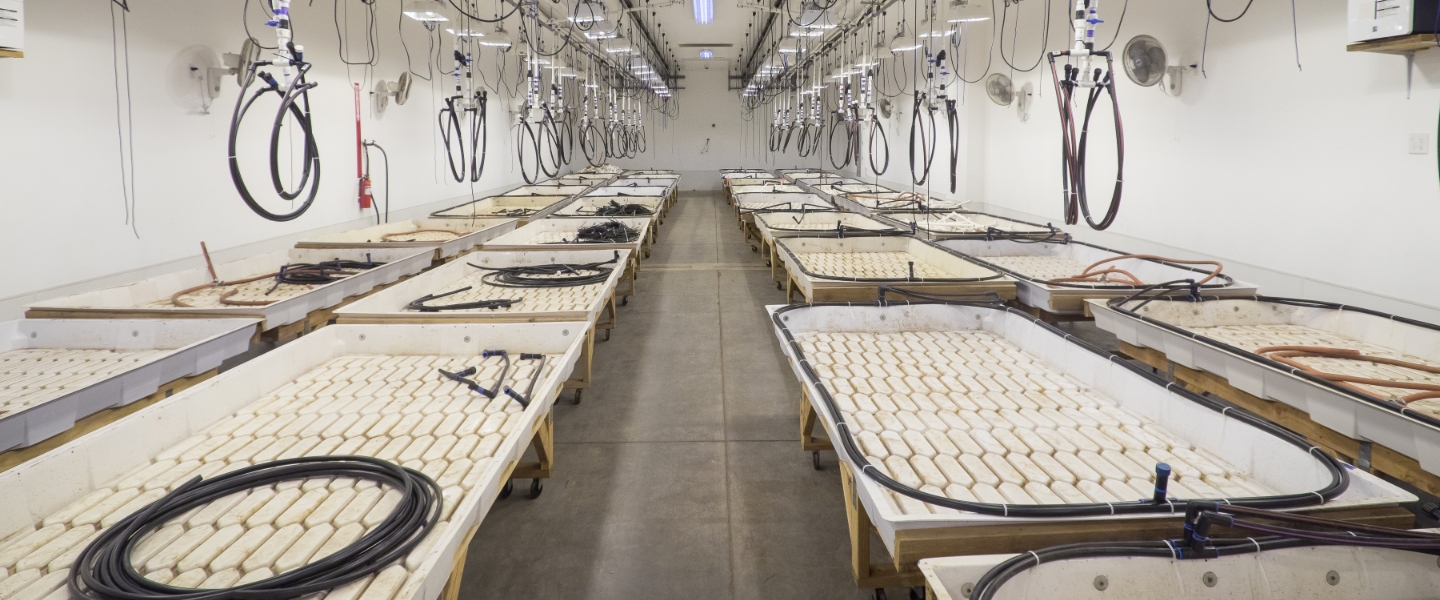 Why use ProKure G in your facility?
Let's break it down: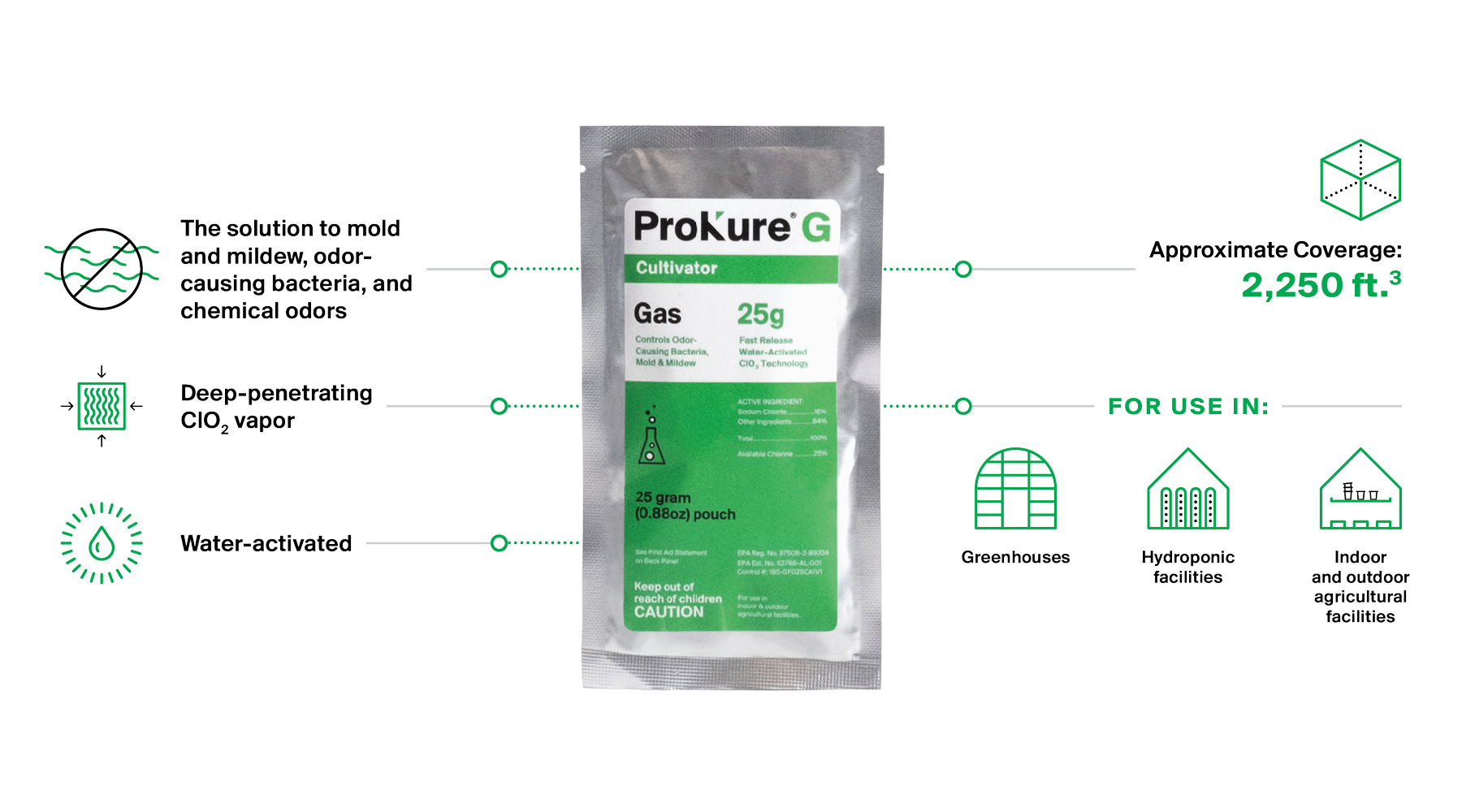 Activating ProKure G
These instructions are specific to the product shown below. Always read your product label before activating any ProKure products.
START HERE:
STEP 1
Tear open the foil package.
Remove the white inner pouch.
DO NOT OPEN WHITE INNER POUCH.
STEP 2
Place the end of the white pouch that has the square indentations into a plastic cup filled with 1.5" of water.
Note: This plastic cup is reusable for future ProKure G treatments!
STEP 3
Place on a stable, level surface in a central location. Turn off lights.
If applicable, turn on air conditioning or ventilation to circulate air.
STEP 4
Allow at least 4-6 hours for the system to work.
Ventilate and turn on lights for one (1) hour before re-entry.
Repeat treatment if odors reappear.
That's it! You're ready to go.
Kind Words From the "I Don't Usually Write Reviews" Crowd
The customer service is excellent and the product is reliable, easy to use, and very effective.
We have been using Prokure for months now seeing amazing results. Our mold levels went down 98% after our first cleaning. Simple and easy to use with great results!!
[Prokure is] easy to use and does not leave any harmful residue, making it a great choice for [our] facilities who prioritize both efficiency and safety.
The customer service is top notch, along with providing knowledgeable support and guidance for how the products can help our facilities.
It's so efficient!
ProKure is the best.
ProKure is not just a great product that helps keep mold/mildew in check or helps clean rooms that show signs of those problems, but they also value their customers and will build a working relationship with you so they can provide the best customer service possible.
Let's Talk
We can show you how our product solutions align with your needs. Complete this form and a representative will be in contact with you shortly.
---
Want to leave us a testimonial? This is the place to do it. We want to hear from you!